The RootRVA Church in conjunction with
Fair Havens Church
have started and are sponsoring a brand new
Trail Life
Troop VA-1808. Our TL Troop is open to boys (ages 5 through 18) and parents and meets 7pm to 8:30pm Monday evenings (September through May) at Fair Havens Church
8200 Belmont Road, Chesterfield, VA 23832
. For more information, please email our Troop Master; Phil Snipes at psnipes2003@gmail.com or just come check us out.
Trail Life USA
is a Church-Based, Christ-Centered, Boy-Focused mentoring and discipleship journey that speaks to the heart of a boy. Established on timeless values derived from the Bible and set in the context of outdoor adventure, boys from Kindergarten through 12th grade are engaged in a Troop setting by male mentors where they are challenged to grow in character, understand their purpose, serve their community, and develop practical leadership skills to carry out the mission for which they were created.
Announcements
As a precautionary measure over COVID-19 concerns Fair Havens Church is closed until further notice. As this is our Troop's meeting place our weekly Troop gatherings are also on hold until Fair Havens Church reopens. Our apologies for any inconvenience this may cause our Troop members and their families. God Bless and we will see you 'all again soon!
Recent Troop happenings
3/2/2020 - Parent Leader Amy Young
Our Parent Leader Amy Young who graduated college with a major in communications is teaching our Navigators and Adventurers Public Speaking and Presentation Skills in a series of workshops over the next 6 - 8 weeks. Thank you Amy for your willingness to share your time and knowledge with our TL guys.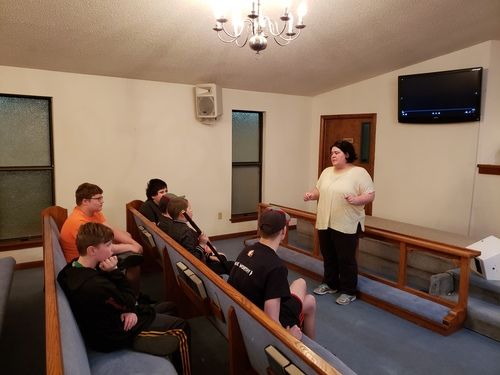 2/24/2020 - Guest Outdoorsman Bill Eagar
RootRVA's Bill Eagar for coming and giving our Trailmen an excellent introduction to Fly fishing!
2/22/2020 - RVA Regional - TL Pinewood Derby
CONGRATULATIONS to Trailmen - Navigator; Ephraim Young for winning the fastest car from Troop VA-1808!
CONGRATULATIONS to Trailmen Mountain Lion; Jayden Takai for winning the best overall design! Middle and right Pic below